A MESSAGE to the people
This is where you get to interact with us and pick our brain...
jUST THINK ABOUT THAT QUESTION? MorniNg Gravvy

We here at the SoGravvy think about this everyday. Its one of Mr. Linuxx's question of the day everyday for when and if we need to achieve a goal or at the very least put together a Record. Yes we use Record here because we do not want to make CDs and cassettes (We know right how old are these people haha) we want to make Records. Singles, albums, Records that will be spun, played, stolen, leaked, streamed, transferred, and downloaded online. That People will want more of. That is our Goal Anyways be The next big thing if not The Big thing just being continued. Anyways back to the question.

Well which one do you think is easier??

We will give you almost as much time as as you would

THINK

you need to answer that. LOL because there is no

wrong answer

. And there is not a

right answer

to it either.

THIS IS ONE OF THINKING OUTSIDE THE BOX KINDA QUESTIONS.

​So now think about the question... how could one be

easier

than the other. There is no way

WE mean

unless you have tried it which we doubt many of us try because we want all types of advantages when it comes to playing sports. I mean we see it in every sports contest or even any game in general . Not going to go off tangent back to the subject.

SO

now you think about it as training yourself to be able to do just that. We work on skills everyday that people take for granted. We test ourselves to "play the game without our sight

OR

our hearing." So to speak. meaning we challenge ourselves to be able to do things without the materials we would normally have to do the job. You do not have to believe and of the things that we are about to say after this but that is because you are not

SoGravvy

and us trying to fight you to understand would not make any sense.

JUST KIDDING

we going to explain it the best we can and you can ask us anything you want. What we mean is when we go out to places to perform you can see a crowd before you but your sight will fail and play tricks. Your eyes can see a crowd and make you nervous but now play the game without your sight. You can also see the crowd but the crowd is not going nuts, making, noise screaming, etc so that also makes you think maybe they are not feeling it. Play with out your hearing as well now you need your sense. Sense enough to get a vibe from the crowd to get a feel for yourself and how they react to you.

HENCE PLAYING THE GAME WITHOUT YOUR SIGHT AND HEARING

. So now which is easier?? Neither? Either? Both? Hope that makes sense basically it is all about the VIBE!!!

Train your vibe and sense of self and you wont need to be able to see or hear the crowd (to play the game, give a speech, meet someone, talk to someone) you will know you are killing it because of the vibe you give off and receive.

Once you step of that stage if youve done it right people will tell you. People love when they can vibe relate and feel apart of things! #AdviceTip1

Now put that same idea into the inner workings of SoGravvy Productions. We make instrumentals, beats, records, vocals, lyrics hooks all of it. When Mr. Linuxx makes an instrumental he does not have a clue on how Mr. Bisqqit is going to react or how Mr. Bisqqit is going to spill Gravvy on the beat hes making. So how do you play a game with out hearing? Same way you killed it on the stage

(Confidence)

you have to be able to

VIBE

and believe that the project you are creating is going to be Gravvy or in your case amazing. This is exactly what Mr. Linuxx does if he is not confident in playing the game with out hearing the lyrics the instrumental will have been made for nothing. He has trained his vibe and he has trained his mind to know what is Gravvy and what is going to mesh well together before the words are even in place.

Playing the game without hearing!

Now playing the game with out sight? How does one do that. Now! look at the other side of the table before the beat is even sent. Mr. Bisqqit is steadily and always keeping up with his writing training himself to be able to bend words and make words work for him

(His Confidence)

. But the Vibe on the Record before that meshed together well to be able to put out a Record that People like. So now with that Vibe already built it is now being harnessed for future

Records

so its always gonna be on point when the instrumental comes thru and its time to put together and another Record. Hence playing the game without your sight. Mr. Bisqqit Just like Mr. Linuxx will have never seen the beat but their is a Record being made based off the Vibe of the song and the Vibe Harnessed to continue a Line of Records Being made!

We mean this is how we interpret the saying and how we use it in everyday but we are pretty sure there are other ways that this can be interpreted and other ways this is used. So we mean by all means go ahead and share and tell us what you think!!!

WHICH DO YOU THINK IS EASIER!

Author

#WeTheGravvy are the Authors of our lives

Archives

Categories

RSS Feed
Powered by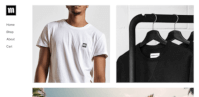 Create your own unique website with customizable templates.