SoGravvy T-Shirts (Blank Ink)
SKU:
All we have right now are Large Size Ts
We are taking pre-orders with your name size AND color
People will ask you whats sogravvy? and now you can say you with your very own sogravvy t-shirt!

* indicates a required field
Powered by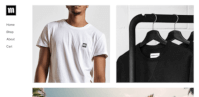 Create your own unique website with customizable templates.