A MESSAGE to the people
This is where you get to interact with us and pick our brain...
This blog post is to be one that hopefully inspires well maybe not inspires but aims to bring people together. Its not every day that people walk up to you and ask whats that? whats what i usually ask? then they say whats SoGravvy. Now this isn't just anybody asking us this is everybody. Every time they ask about us i tell them we are a Boston brand looking to help and put communities together just by adding little Gravvy. They laugh and smile and ask me for a card or the website and i tell them and we move on. NOW my biggest issue with that is why ask for it if you aren't gonna do anything with it?

SO here is our proposition. Why not work together? we are all in this city together? right? i mean when we go home we don't get on a plane and fly outta here nope, we hop on the bus, we use our legs, we drive, take the train or something point is we all live here. We all have the same goals right? TO GET THIS.... (INSERT whatever you wanna call your money) a bag, dollars, dead presidents, coins bread what have you. So if we live in the same place have the same goal why not work TOGETHER!

Just tired of seeing and hearing people are doing well tryna come up and then someone is tryna come up on them. why not work together and bang it out. Why not work together and take the city. I mean it seems pretty simple. IF EVERYONE IS ON THEN NOBODY S LEFT OUT. EVERYONE EATS. so maybe it is a complex idea but the carry out and the solution's simple i think.

So here it is LETS COLLAB. LETS TAKE THE CITY. lets stop hating and trying to be the best when everyone can be the best and put on in a way that benefits everyone. EVERYONE ELSE ALL THE MUSIC INDUSTRY PEOPLE DO IT. thats why they are over night famous.

SO #SupportYourFriends #PRESSPLAYLIKESHARE #SUPPORTBLACKBUSINESS #TAKETHECITY #BOSTON #SOGRAVVY #WETHEGRAVVY.

Author

#WeTheGravvy are the Authors of our lives

Archives

Categories

RSS Feed
Powered by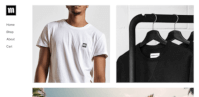 Create your own unique website with customizable templates.