A MESSAGE to the people
This is where you get to interact with us and pick our brain...
Lets just all take a moment to relax... now listen to what you hear around you. All of that information you are picking up thru your five maybe six senses, depending on who you are and how "woke" you decide you are, is power. You are gaining knowledge which equals power. All the stuff you are seeing, hearing, touching, feeling, and smelling is gaining knowledge about whats around you. With that knowledge you can think and figure out whats around you which gives you power to do what you want. Knowledge is power. The ability to build off of anything because you know how to do so. you have learned the certain skills necessary to do whatever which makes you powerful. Knowledge is power

Vision is value. We are not talking about the vision you see with your eyes (although that is pretty valuable too). We are talking about the vision you see with your mind. This is very valuable. The vision is value. The value of seeing something for yourself and wanting it to happen. This means that you are able to think for yourself. And that will allow you to get out of situations or better yet turn situations into your favor or even better still find a way to make an already amazing situation even more profitable or prosperous in general. Able to build things from thin air because you know what it looks like and how to get it done and what needs to be done.

In order to get all of that done you have to have the will power. You have to have the confidence,. without the confidence and will power to want to pull of the event or the plan that you are trying to put in motion, vision and knowledge is useless. Basically a huge waste. So, therefore Confidence is Key. The biggest part to any plan idea or dream is to put it in motion and have the confidence that it is going to go thru without a hitch. Even more so, having the confidence to get past any problem or obstacle that may arise.

We can use all of these in life to get through everyday problems and everyday obstacles. We use our minds heart and soul to put each one of these into use as well as making sure that we do the best for ourselves and hopefully by doing that putting our VISION, CONFIDENCE, and KNOWLEDGE together we can help change the world for the BETTER!

Vision is Value
Knowledge is Power
Confidence is Key
-Lenni Linguini-CEO Sogravvy Productions-

---

Author

#WeTheGravvy are the Authors of our lives

Archives

Categories

RSS Feed
Powered by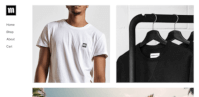 Create your own unique website with customizable templates.